上記の広告は1ヶ月以上更新のないブログに表示されています。
新しい記事を書く事で広告が消せます。
In Japan, an eccentric advertisement is becoming more common.
最近の日本での広告には、変わった物も登場しているらしい。
Do you know the term
"Absolute Territory"

?
皆さんは「絶対領域」という言葉をご存じでしょうか?
This refers to the thigh of women who wear miniskirts and over-knee-socks.
これはミニスカートにひざ上丈のソックスを着用した女性の、太もものことを指します。
Absolute territory advertisements
are becoming more frequent.
この部分を広告として使った「絶対領域広告」が登場したようだ。
The women who are registered member put advertisement stickers on their thigh for at least eight hours and then go on with their everyday business.
会員登録した女性が広告シールを太ももに貼り、8時間以上日常生活を送ります。
How this business works is For proof that they truly put it on and they post their pictures to SNS(social network services) and they would get advertisement fees.
その際に, ちゃんと貼った証として、写真を撮影してSNS(ソーシャルネットワークサービス)に投稿する事で広告費を受け取るという仕組みです。
It seems to be popular for Japanese girls, because they enjoy putting it on as fashion and can also earn money.
ファッション感覚で貼って楽しみながら稼げるという事で、日本の女の子に人気があるとか。
They can get between 3,000 and 10,000 yen if they put it on a day.
一日貼って3,000円から10,000円も貰える。
If I stare at the absolute territory of ordinary women, I'll be suspected that I have a dirty mind. In this case I can look, right?
一般女性の絶対領域をじろじろ見ていたら怪しまれそうだが、これなら正々堂々視線を送ってOK……?
I will be extremely glad, if such a women do this more.Lol
こんな女性が増えると男性としては嬉しい限りです(笑)
This is Absolute territory advertisements company's URL.
絶対領域広告会社のURLです。
http://www.zettaipr.com/
And it seems that there is the other advertisement called face advertisement.
また、 他にも顔面広告というものもあるようだ。
スポンサーサイト
Nov.1.2012, "N-ONE" is a light motor vehicle which was released by HONDA.
2012年11月1日 HONDAから軽自動車の「N-ONE」が発売されました。
It seems to recreate the detail of "N-ONE" thoroughly and to makes
the full-scale paper craft
in commemoration of its release.
それを記念し「N-ONE」のディテールまで徹底的に再現した、"原寸大"のペーパークラフトをつくったらしいです。
This is the video of it on YouTube.
こちらがYouTubeのその動画です。
Its total length is 3,395mm; total width is 1,475mm; height is 1,605mm. You can download unfolded patterns of the full-sized paper craft from the URL below.
サイズ : 全長3,395mm 全幅1,475mm 全高1,605mmのペーパークラフトの展開図が下記URLからダウンロード出来ます!!!
The full-sized unfolded patterns
http://www.honda.co.jp/N/img/item_detail/item16/1-1/1-1_up_jp.pdf
The manual
http://www.honda.co.jp/N/img/item_detail/item16/1-1/1-1_i_jp.pdf
But you need to be quite motivated to make it :( LOL
ただ作るには気合いが必要かも!笑
And You can download 1/9 scale paper craft as well from this URL, so please try it:) Perfect
また1/9サイズのペーパークラフトもここからダウンロード出来ますので、試してみて下さい。
1/9 sized unfolded patterns
http://www.honda.co.jp/N/img/item_detail/item16/1-9/1-9_01_jp.pdf
The manual
http://www.honda.co.jp/N/img/item_detail/item16/1-9/1-9_i_jp.pdf
At last,
jumbo robots
have begun to be sold in Japan. It is an unbelievable story, but it's true.
ついに巨大ロボットが日本で販売されることになった。信じ難い話だが、本当である。
The robot's name is "
KURATASU
"; Suidobashi Heavy Industry developed it. Its overall height is 3.8 meters and the weight is 4 tons. It costs
1,355,000 USD
(about 106,000,000 yen)
ロボットの名前は「KURATASU」と言い水道橋重工が開発しました。全高3.8メートル、重さ4トンあるという。価格は、カスタマイズなしの状態で135万3500ドル(=約1億600万円)。
This robot runs on a next-generation robot operation system called "
V-sido
." It seems that this name is a parody of
Bushido(武士道)
.
このロボットには次世代ロボットオペレーションシステム「V-sido」が搭載されている。この名前は、「武士道」をもじられたようだ。
In the cockpit, you can see in front and behind on a big monitor. By using "V-Sido" it is possible to grab things with the robot's hand by using a joystick, touch-screen, or iPhone.
コクピットでは、大画面モニターにより前後を見る事ができます。「V-sido」を使用することにより操縦桿やタッチパネル、iPhoneでも操縦することができ、手で物をつかむことも可能だ。
It can also lock on a marked target and fire six thousand BB shots a minute with a Gatling gun. It comes equipped with missiles as well. Of course, these are weapons that don't have killing power. So don't worry.
また、標的をロックオンする事ができ、ガトリング銃でBB弾を1分間に6000発撃つ事もできるという。またミサイルも搭載されています。勿論、これらの武器は殺傷能力はないオモチャなので、ご安心を。
How to ride KURATAS
Name of Suidobashi Heavy Industry which was developed, is not company, it is name of unit consisted of two people. Yes, this robot was made by only two people. This is product corroboration with Mr.Yoshida's operation system "V-sido" and Mr.Kurata's robot's body.
これを開発した水道橋重工というのは会社ではなく、2人からなるユニット名らしい。そう、これはたった2人だけで作ったのである。吉崎氏のオペレーションシステム「V-sido」、倉田氏のロボット本体のコラボした作品なのだ。
This is a very expensive vehicle, but if I were an oil magnate from an Arab country, I'd quickly buy this.lol You can make customizations and order from the URL below, so please take a look if you are interested in it. This home page is cool as well.
下記のURLからカスタマイズ、注文ができるので、興味のある方は、是非ご覧ください。ホームページもかっこいいです。
http://suidobashijuko.jp/
The future is just around the corner, certainly.
確実に未来がそこにやってきている。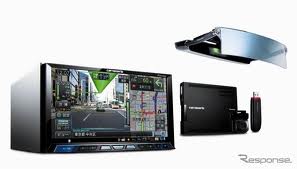 This month the near future next generation car navigation system "
Cyber navi
" will be put on the market.
今月、近未来次世代カーナビ「Cyber navi」が発売されます。
It's the world's first time to have adopted the system "AR HUD UNIT" displaying traffic information floating ahead of the car's front glass, so the driver becomes able to receive traffic information while facing front.
世界初のフロントガラスの先に情報が浮かぶシステム「AR HUD ユニット」を採用し、ドライバーは前を向いたまま道路情報を得るとこができるようになった。
This technology was also adopted by jet fighters and Gundam.
この技術は、戦闘機やガンダムにも採用しされてます。
Do you think this was as close to the future you had imagined during childhood?
子供の頃、思い描いてた未来に近づいたと思いませんか?
Also, there's a video camera and directional guide information superimposed on real vision which is displayed on a LCD monitor.
また、このナビにはカメラが付いていて、液晶モニターには実際の映像に重ねて誘導情報が表示されます。
It recognizes the color of signals and speed limit signs, which is then showed to the driver.
信号の色や速度規制標識を認識してドライバーに知らせてくれます。
It also recognizes vehicular gaps and traffic lanes, while notifying the driver with sounds and visionary instruction.
また、車間距離や車線を認識し音や視覚で教えてくれます。
I should definitely get this!
これは、手に入れるしかないな!
Pioneer Product's infomation
There are a lot of famouse Japanese anime, but what is your favorite Japanese anime?
沢山の有名な日本のアニメがありますが、あなたのお気に入りの日本のアニメは何ですか?
I'm going to answer without hesitation "
Dragon Ball
".
僕はためらわずに「ドラゴンボール」と答えるだろう。
The original comic was serialized from 1984 to 1995, and the separate volumes have been translated into 24 languages, and was a big hit all over the world.
原作の漫画は1984年から1995年に渡って連載され、単行本は24ヶ国に翻訳され、世界中で大ヒットしました。
The anime version was broadcast from 1986 for 11years. And it is broadcast in more than 40 countries worldwide. It is popular as a representative work of Japan even now.
アニメ版は、1986年から11年間もの間、放映されてました。それは全世界40カ国以上で放送され、今でも日本を代表する作品として人気があります。
Today, July 14, a production company has announced that
"DORAGON BALL Z" , a new film will be screened next year
after a 17 year absence.
本日14日、ドラゴンボールの劇場版最新作「ドラゴンボールZ」の来年17年ぶりの公開を発表されました。
This movie version is not extra edition, is between "Z" and "GT"of anime series, in other words, it will be drawn blank episodes of a few years from finishing the fight between Goku and Boo.
今回の劇場版は、番外編ではなく、「Z」と「GT」の間、つまり悟空達とブーとの戦いを終えてから数年間の空白のエピソードが描かれます。
Author:AKIRA TORIYAMA
It will be screened on March 31, 2013. Don't miss it!
2013年3月31日に日本で公開です。乞うご期待!
DORAGON BALL MOVIE INFORMATION